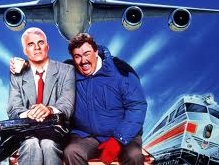 Plane News
There was some great news last week for the Region of Waterloo International Airport. Starting on June 14 next year, we'll be enjoying twice daily flights to Chicago (except Saturday). Flights will be leaving (at 6:30am and 4:40pm) from Region of Waterloo International Airport for the 1 hour 25 minute flight to Chicago. Returning flights leave Chicago at 1:20pm and 7:50pm arriving   at 2:55pm and 10:15pm.
No word yet on the cost.
Bus News
The Kitchener Waterloo Association of Realtors puts on two or three education sessions every month for realtors and members of the general public. I was impressed last week with our Region of Waterloo transportation plans for the next 5-7 years.
Grand River Transit has been doing a wonderful job of improving the busing system around the region since the province downloaded the responsibilities to us more than a decade ago. Improved ridership is the result of more and better buses, high tech scheduling, and route improvement.
What they're working on now is a move away from the current "hub and spoke" system where passengers transfer at several terminals, in favor of a criss-cross network of bus routes (intersecting with the LRT when completed). The new Fischer-Hallman Express route is an example of this. Others to follow include a Columbia Route, a University Avenue Route, a Ottawa Street Route, a Highland Road – Victoria Street Route, as well as others. In Cambridge there will be a Maple Grove Route, a Coronation Boulevard Route nada Franklin Route.
Train News
We're not getting High Speed Rail anytime soon but GoTrain has been practicing for their launch tomorrow morning. A second Go Train station is planned for Breslau (one of our major new housing development areas).
Our Tri-Cities Transport Action Group (TriTAG) expressed its views on a private sector operator for the LRT. Simply put, it will not stand for a 30-year private sector monopoly on LRT operations. It's a bad idea and it wont work. In cities where public transportation operates privately, profits are maximized and the public often pays the price. TriTAG also postulates that private operation of the LRT will mean that Cambridge will never get the LRT, at least not for 30 more years.