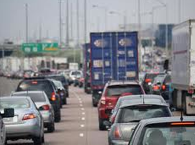 Remember when the 401 was four lanes? Seems like a time long ago. But now there are plans to widen our congested 401 from Kitchener Cambridge to Mississauga to ten lanes.
Two of those lanes might be car pool lanes down the middle of Highway 401.  The inner lane in each direction would be marked with diamonds on the asphalt and overhead signs saying only vehicles carrying two or more people are permitted. Police would enforce the rule.
The other four lanes of traffic in each direction would be used by trucks and other vehicles as it is now.
I personally think this is a great idea that wont work. What will happen is transponders will be purchased and special identifying stickers will be issued. A fee will be introduced to travel in theses lanes and we will create two tier system.
What should happen is a rail line running along the 401 whisking happy travelers to their destinations