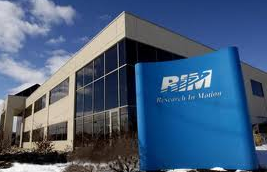 The slide continues at RIM.
Earlier this week, after releasing financial figures that fell well short of expectations, our co-CEOs Jim Balsillie and Mike Lazaridis announced they were cutting their salaries to $1 a year as they work to turn the company around. It's a nice gesture but it's just that, and something to soothe the investors who are not at all happy.
Things have to change, and fast, if RIM hope to regain traction and start competing again. They had to heavily discount the Playbook after it failed to excite the general public and corporate business users. The next generation is due to be released early next year. But will anyone care? Dumping the product on the market doesn't send a great message. The fact is that the ipad gained an early lead in the tablet market and widens that gap every day. Just pay a visit to the apple store in the Conestoga Mall. Everyone loves the ipad. Everyone except the other tablet makers, toy makers, pc makers, ereader makers.
But back to RIM, the number of Blackberry's it ships in the quarter including Christmas is expected to drop by about 26% compared to the last year. It looks like 2011 will be remembered as the year that everything seemed to go wrong for our local hero.
The current problems involve ongoing confidence issues. The third-quarter net profit was well below expectations. Net profit for the quarter was only $265 million US. Last year for the same quarter is was $911 million. As a result, share prices are down to their lowest levels in almost eight years.
Stock values continue to fall and investors are calling for a major shake up at RIM. There is talk about breaking it up and selling it for its parts. There is talk about opening up its secure and highly respected network to rival smartphone providers and concentrate on that business while getting out of the hardware game altogether.
BlackBerry's share of the lucrative American smartphone market is down to about 10% this year. Advanced wireless networks in the United States are ideal for video streaming and other data services of which the next generation of BlackBerry is perfect for. But the next generation Blackberry has been delayed until late 2012 due to a delay in getting a chipset that will give the smartphones long battery life and allow them to run on these faster networks.
I really hope RIM finds it's way. It's been great for our local economy and for our pride. It's helped Waterloo Region attract and retain so much talent. It's put us on the map.
So what does this mean for 2012?
RIM is still making lots of money. (They're not making as much as they want to but they're making a lot.) There is no way they are going out of business – their network and intellectual property is worth too much. They might have to restructure, refocus and certainly retool their management style.
Which brings us to real estate.
How important is RIM to the KW real estate market? Except for the confidence issue, if and when RIM does something major, it will cause barely a ripple in our market. We are not a one industry town. We have too many other high tech, insurance, university and other major employers. We have thousands of smaller employers.
If you're waiting for or worried that the local real estate market will drop by 30% overnight, it wont happen. Don't wait and don't worry.