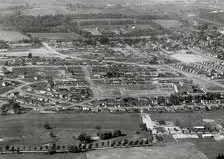 Although I've only lived in Waterloo for over a decade, I'm interested in our local history. I think it's fascinating how industries came and went and how streets extended and neighborhoods developed. I've spent countless hours in both the Kitchener Public Library and the Waterloo Public Library, looking at old maps and browsing our history. I've learned through my research and as working as a real estate agent that here are some great neighborhoods in Kitchener Waterloo. Old Westmount is one of them.
When we first moved to Waterloo Region (from Taipei), we spent about half a year, getting the lay of the land, checking out different neighborhoods; researching to find great schools, proximity to pools and libraries were our two biggest criteria. We ended up buying a home in Westmount, not old Westmount, but in Westmount/UpTown. We like it for many reasons and we've recently moved to another house in the neighborhood.
It wasn't until recently that I learned from a story in Grand magazine that Westmount was designed with Montreal's Westmount neighborhood in mind.
Westmount started out as a desire for a "garden suburb" and had the initial help of the landscape architect who had designed New York's Central Park and Montreal's Mount Royal neighborhood. That was back in about 1912. It wasn't until after 1930 and the construction of the Westmount Golf and Country Club that things really got rolling. By the 60's almost all the lots had been built upon and Westmount had established itself as Kitchener Waterloo's premier neighborhood.
source and photo credit