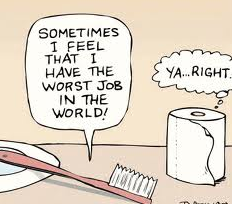 Tired of your old job? Looking for a good place to work this time? The top 15 employers were announced last week. They are:
Com Dev International Ltd.
Crawford and Co. (Canada) Inc.
Desire2Learn Inc.
Economical Mutual Insurance Co.
Equitable Life of Canada Inc.
George Morris Centre for Agri-Food Research and Education
Geosyntec Consultants International Inc.
Gore Mutual Insurance Co.
OpenText Corp.
Perimeter Institute for Theoretical Physics
Research In Motion Ltd.
Sybase Canada Ltd
Toyota Motor Manufacturing Canada Inc.
University of Guelph
Waste Management of Canada Corp.
The criteria to rank these companies as tops are: physical workplace; work atmosphere; health, financial and family benefits; vacation and time off; employee communications; performance management; training and skills development; and community involvement.
It's nice to see RIM on the list. They've had a tough year with their investors and the press. It's interesting that three insurance companies made the list too. Our insurance companies often get forgotten with all the exciting high tech news (like facebook coming to Kitchener).