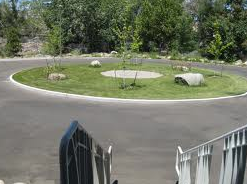 A cul-de-sac (literally "bottom of bag" in Catalan) is a word of Catalan origin coming to the English via French referring to a dead end, close, no through road (British English) or court (American, Canadian and Australian English) meaning dead-end street with only one inlet/outlet. While historically built for other reasons, one of its modern uses is to calm vehicle traffic.
There are 560 cul-de-sacs in Kitchener. Many of these cul-de-sacs have an island in the middle which is a grass circle. The City of Kitchener is inviting homeowners to plant community gardens in these isolated islands. Kitchener will provide $1000 in services such as soil removal, woodchips and compost spreading and $1000 for new plants. After the garden is established, the people living around the cul-de-sac are expected to care for it.
It's a good plan and is supposed to be a win-win because the homeowners around the community garden can enjoy it (however they choose) and the city saves money in labor costs to maintain those isolated islands spotted throughout the city's suburban areas.
Before you apply, there are a couple things you should know:
The garden is restricted to decorative plants – there is too much road salt for veggies.
Everyone living around the cul-de-sac agree with the idea.