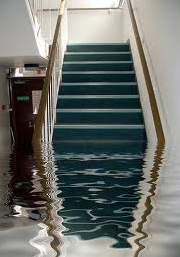 When rainwater and melting snow leaks through the foundation walls, basements may become damp. There may be water on the floor.
Homebuyers think that the house is defective. They may believe that the foundation is damaged. They worry that the situation is permanent and calculate that they will have to spend tens of thousands of dollars to get the problem fixed.
What a wet basement really means is that the house is typical. Most basements are wet at some point. It is a nuisance, but not usually a structural problem. The problem usually  occurs when water accumulates on the outside of the house. When this happens, it will almost always leak through the foundation.
What can you do about it? Stop the water from accumulating outside. Solve the problem at the source by fix the gutters and downspouts. Slope the ground outside to drain water away. You likely don't have to build a last line of defense (digging down along the foundation wall and installing a membrane). 90% of the problems are fixed with proper draining.
What will a wet basement cost me? Fixing the gutters and downspouts might cost a few hundred dollars. Improving the ground slope can often be done by the homeowner.
Related posts:
What the home inspector told me about your roof
What the home inspector told me about your venting pipes
What the home inspector told me about your furnace
What the home inspector told me about vermiculite.