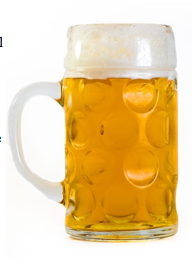 Looking for a great and sudsy bucket list idea? No, not a bubble bath with Scarlett Johansson, (though that would be nice) –> How about attending the top ten Oktoberfests around the world. It may take several years, but we all need goals.
First of all, a bit of history
More than 200 years ago, back in 1810, German folks were celebrating a Bavarian prince's marriage. In case you don't recall, it was Crown Prince Ludwig, (Ludwig the Randy) the son of Count Palatine Maximilian Joseph of Zweibrücken and first wife Augusta Wilhelmine of Hesse-Darmstadt. Ludwig is best remembered for his enthusiasm for the arts and women and by his overreaching royal assertiveness. Ludwig strongly rejected the alliance of his father with Napoleon I of France but that's another story. Our annual beer and bratwurst celebration got started with Ludwig. It started near Munich but now extends from Ho Chi Minh City to Dublin, from Kitchener Waterloo to Brisbane, from Blumenau to Windhoek. Where?
Top 10 Oktoberfests outside of Germany
Kitchener-Waterloo
Canadians pull out all the stops for nine days each fall to create the largest Oktoberfest celebration outside of Munich. Based in Ontario's twin cities, Kitchener-Waterloo Oktoberfest is a celebration the entire family can enjoy; the German extravaganza offers more than 40 family and cultural events, including the "World's Most Dangerous Bocce Ball Tournament". The celebration culminates at the Thanksgiving Day Parade, a televised spectacle of floats, entertainers and marching bands broadcast across the country.
Dates: Oct. 7-16
Hong Kong
The thriving expat community in Hong Kong has done a fine job – for 19 years now – of importing lederhosen and sauerkraut for a waterfront Oktoberfest at the beginning of each November, sponsored by the Marco Polo Hongkong Hotel. This year will be especially festive, as the Marco Polo German Bierfest celebrates its 20th anniversary. Expect three straight weeks of lively debauchery (last year, nearly 40,000 guests crammed into the traditional tent for live music and pork knuckles). The real question isn't whether or not you should go. It's "How many 1-litre beer steins can I fit in my suitcase home"?
Dates: Oct. 21-Nov.12
Blumenau, Brazil
Though Oktoberfests are celebrated all over Brazil each October, it's Blumenau's that provides attendees with a quintessential German aesthetic. In 1850, German immigrants founded the town, situated in Santa Catarina in southern Brazil. And it's obvious: the German Village (Vila Germânica) in the city centre features German-style buildings that take visitors out of Brazil and drop them smack-dab in the middle of Bavaria. And in October, that means Oktoberfest. A reported 700,000 visitors annually flood the town to eat, drink and dance – to an oompah-samba fusion, we assume.
Dates: Oct. 6-23
Brisbane, Australia
The upside of opting for Brisbane's Oktoberfest instead of Munich's is the former's spectacular spring weather. And, the sheer joy that comes with vacationing in Queensland, of course. The Aussies do it up right for two weekends each October at Oktoberfest Brisbane, held at the RNA Showgrounds. Reserve a Bavarian VIP Table and invite seven friends (the table seats eight) for an elevated view of the space, a full spread of specialty German dishes, sausages and pretzels, and take-home Oktoberfest beer steins. Bottoms up!
Dates: Oct.7-9 & 14-16

Cincinnati, Ohio, United States
The United States' largest Oktoberfest is situated in none other than – Ohio? It's true, East Coast sceptics: Oktoberfest Zinzinnati is a no-nonsense weekend of fantastic beer, food and entertainment. Schnitzel, pretzels and strudel are washed down with 1.6 million ounces of beer annually. Stock up on complimentary souvenir mugs as you sample Spaten, Erdinger and Konig Ludwig beers and stroll along the streets of downtown Cincinnati. In your food coma, make sure to catch the "Running of the Wieners" and the "World's Largest Chicken Dance" on Sunday at Fountain Square.
Dates: Sept. 17-18
Stockholm, Sweden
Beer festivals are well underway in Norway, Denmark, Iceland, and throughout Scandinavia by the end of each September, but it's Stockholm's Beer & Whisky Festival – also known as Stockholm Oktoberfest – that's made the cut in this case. Swedes add whiskey to the mix for two consecutive weekends, giving visitors the chance to try libations from nearly 100 exhibitors. Sign up for beer and whiskey "schools", where novices and seasoned drinkers alike get the chance to learn from experts in Level I and II classes. Thirty-four thousand attendees took part in the festivities at Congress Centre last year, so be sure to reserve your tickets soon.
Dates: Sept. 29-Oct.1 & Oct.6-8
Dublin, Ireland
Swap the Guinness for Erdinger this fall at Oktoberfest Dublin, one of the many beer festivals happening around the Emerald Isle. Free for all attendees, the ode to Bavaria features a mouthwatering menu of bratwurst, spätzle, Burgundian ham and other traditional German dishes. Visitors eager to stay late are required to purchase a 6€ wristband, guaranteeing a hearty meal to help soak up the wheat beer in the wee hours. One euro from every wristband sold helps disadvantaged children from Dublin – an excuse in itself to raise a glass.
Dates: Sept.22-Oct.9
Denver, Colorado, United States
When Samuel Adams is the official sponsor of an Oktoberfest, it's healthy to question the German celebration's authenticity. In this case, though, Jägermeister is also a major sponsor – and so we're in. Oktoberfest Denver kicks off with a ceremonial tapping of a Sam Adams Oktoberfest keg of beer, and continues for two full weekends of themed costumes, live music and tasty cuisine. Coloradans and the 250,000 visitors who stop by each year take competition very seriously: the Stein Hoisting Competition starts on the first Friday with pre-qualifying rounds and continues for two weekends until the strongest – and hopefully soberest – contenders throw down on the following Saturday night on the German Stage.
Dates: Sept. 16-18 & 23-25
Ho Chi Minh City, Vietnam
Sacrifice a water puppet show or a trip to the Reunification Palace in Ho Chi Minh City this October for a hearty helping of German music and food. The German Business Association adds legitimacy to this lederhosen-clad party, acting as its official sponsor. Oktoberfest Vietnam, held at the Windsor Plaza Hotel, features German games, nightly raffles, all-you-can-eat food, and – of course – beer, that last year attracted more 14,000 guests. A tad smaller than Munich's guest list of 6 million, Saigon's offers a smaller-scale version of a traditional beer garden.
Dates: Oct.7-8 & 11-15
Windhoek, Namibia
Namibia's capital honours its colonial German roots every year at the country's largest sports club, Sport Klub Windhoek. Rowdy crowds chow down on authentic German cuisine over a fun-filled weekend, serenaded by oompah bands flown in from the ex-Motherland itself. Make sure your camera is on hand, as waitresses compete to see who can carry the most steins of beer. Join expats and locals alike to wash knockwurst, Wiener schnitzel and Bavarian pretzels down with Windhoek Lager, a Euro pale lager that's made its mark worldwide. Cheers!
Dates: Oct. 28-29