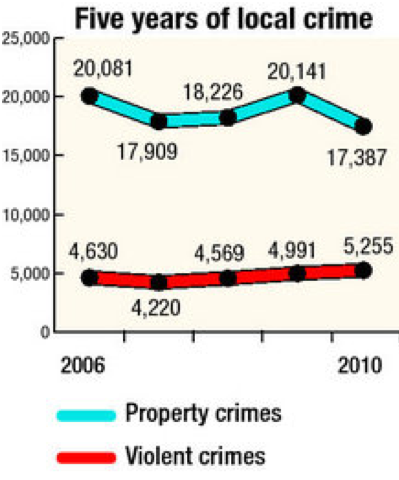 Violent crime in Kitchener Waterloo rose again last year as residents reported more robberies, threats, criminal harassment and sexual violations against children.
Property crimes fell again and consistent with the past several years. There were fewer cars stolen, fewer thefts reported and fewer break-and-enters.
National figures show Canada's crime rate fell last year to its lowest level in nearly four decades. Bucking this trend, the local violent crime rate is up 39% since 2003 on a wave of assaults, threats, harassments and sexual assaults.
The severity of local violence is increasing. It remains below national and provincial rates but the gap is narrowing. Also, the severity of national and provincial violence has fallen four years in a row.
On average, the region saw 14 violent crimes reported to police per day in 2010, up from nine per day in 2003.
The tally for last year includes 335 robberies, up from 275 the year before, and 733 assaults causing bodily harm or using a weapon, up from 618 the year before.
Residents reported 48 property crimes per day last year, on average – the lowest number in at least 13 years.
Despite rising violence, Waterloo Region enjoys a low amount of crime compared to other cities.
The local crime rate, measuring crimes per population, is eighth lowest among 32 cities. The robbery rate is 12th lowest and the rate of auto theft is eighth lowest. The seriousness of local crime, measured by the punishment imposed, is also lower than most cities.