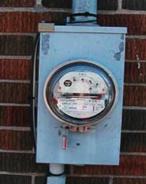 A 60 amp electrical service is a service type typically found in older homes. Although may be too small for modern lifestyles, it is not a safety issue. However it can be an insurance issue.
Homebuyers usually think a 60 amp service means that the house is: unsafe, of low quality, obsolete or not well maintained, but in fact it only means that the system has been working satisfactorily for the current owners. Of course, depending on lifestyle, the new family may require a 100 amp service. You won't know for sure until the new family moves in.
What should we do about it?
Nothing. Allow for possible replacement depending on lifestyle. Also check with your insurance company. They may require a 100 amp service.
What does it cost for an upgrade?
$1000 – $2000.
What should I tell my clients?
Homes of this age and style were built with a 60 amp services.
It is not unsafe
It may be a nuisance if you use a lot of electricity
Insurance companies may ask you to upgrade
Upgrading may cost as much as $2000.