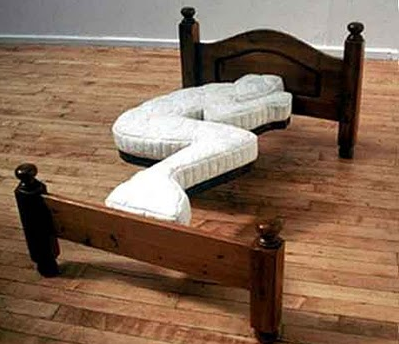 Most modern beds consist of a mattress on a bed frame, with the mattress resting either on a solid base, (often wooden slats), or a sprung base. In North America many beds include a box spring inner-sprung base, a large mattress-sized box containing wood and springs that provide additional support and suspension for the mattress.

In Europe, Australia and Japan, people prefer to dispense with the box spring and bed frame, and replace it with a platform bed style.

Bed sizes vary considerably around the world, with most countries having their own standards and terminology.

While the double size appears to be standard among English speaking countries, based on the imperial measurement of 4 ft 6 in by 6 ft 3 in (137,16 cm x 190,5 cm), the sizes for other bed types tend to vary. The mainland European sizes differ, not merely because of difference based on use of the metric system.

A king-sized bed differs from the other sizes in implementation, as it is not common to have a king-sized box spring; rather, two smaller box-springs are used under a king-sized mattress.

What is referred to as a "single bed" in many parts of the world is known in U.S. terminology as a "twin bed." In some countries, a "twin bed" may also be used to describe one of two single beds in the same room.

Early beds were little more than piles of straw or some other natural material like maybe a pile of palm leaves. Raising them off the ground, to avoid draughts, dirt, and pests was the first step leading to beds as we know them today.

[slideshow id=11]

We've come along way, perhaps gone too far.