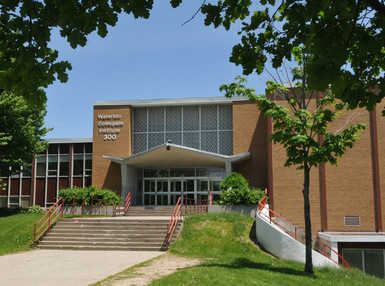 Central to most people's neighborhood is their own home. Second to that is often their kids' schools. Many people choose to live in a certain neighborhood, or stay in a certain neighborhood because of a school. But schools get old and neighborhoods change.
We're nostalgic. No one wants their school to close.
I was talking with an old neighbor last week. His first question was, "Did you hear that WCI might be closing?" I had. There was a story in the newspaper about how old the building is (51 years) and how the neighborhood has changed. He was postulating that Wilfred Laurier University wants the building and the land. He could be right. All around Waterloo Collegiate Institute's neighborhood is university related buildings, mostly housing for students.
WCI will close. It will happen, I think, but not for a while. "It's a facility and location under review". This was the early rumblings.
With more and more development on the outskirts of the city, new schools are built where young families are buying their first home. With two kids playing sports in the public school system, I'm always dropping them off or picking them up at schools I'd only vaguely heard of before.
There is a new public elementary school being built on the corner of Fairway Road and Lackner Boulevard. It will open in September 2014.
With that, Stanley Park School has been targeted for potential closure as has Sunnyside Pubic School. Both like WCI are in older neighborhoods where the demographics have shifted.