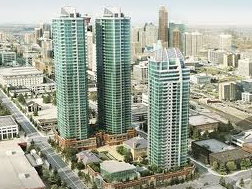 I speak from experience.
The first home I bought was a high-rise condo. Of course, that was in 1993 and in Taiwan where 90% of the population was moving into brand new condominium complexes. It was pretty good. We lived on the 16th floor of a 365-unit building, with a great view of the rice paddies and the distant mountains.
However, I wouldn't do it again. I wouldn't live again in a high-rise condo. High-rise condo living just isn't for me.
Today in Canada, only about 15% of us own condos. But that number has increased rapidly over the past decade and more and more of us will be giving high-rise condo living a first try in the short years to come. The advertising is enticing. Great views. Hardwood floors. Modern kitchens. In many cases, you're right downtown, close to shopping and events. If you're moving from traditional residential areas it sure seems dreamy. You're buying a new lifestyle. Maybe you're ready for a change. Maybe you're not.
Proceed with caution would be my advice:
If you've never lived in a high-rise condo before, you may want to rent out your house for a year and find one to rent.
You should take a long, hard look at the condo building you're thinking of buying in. You can ask for annual financial statements and the status of the reserved fund for study. If you know someone in the building, they may have one that is relatively current.
Take a special tour of the common elements of the building. You own a share of these places and you should know what you own.
Before committing to buying, you may want to sit in the lobby and read a newspaper or magazine while observing the comings and goings of the occupants and getting a sense of what the villagers are like. I advise my resale home buying clients to do the same thing (park in their potential neighborhood on Friday night and Monday morning). Likewise, you should walk (or drive) the neighborhood at different times of day and night to get the lie of the land.
If the building you are considering is older, there is a strong likelihood that special assessments will be coming to address the structural and decorative effects of aging. Also, some older buildings, do not have individual meters for hydro and water. So if you go away for the winter, you are in effect subsidizing your neighbors' utility bills for months at a time.
If you opt to buy in a condo under development, be warned that these projects are rarely, if ever, finished on time. Expect delays and more delays. Buying a pre-construction condo is almost completely different than buying a resale home.