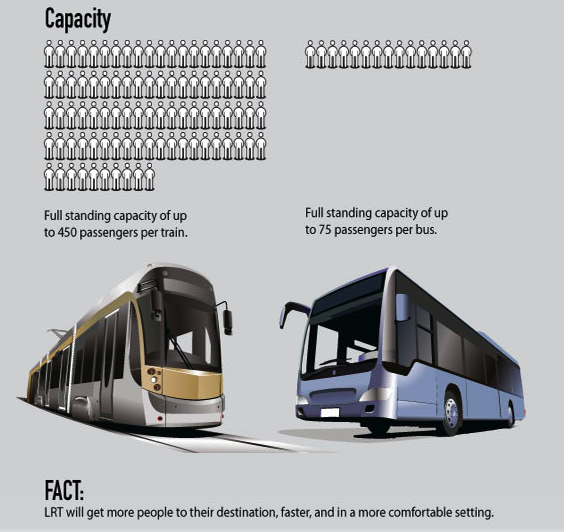 Today, there is a LRT Poster Distribution event (Round 1) scheduled. The facebook page says "We'll be meeting to put up posters in the Uptown/WLU/UW areas on Sunday. We have posters and will have some clear packing tape. If you'd like to contribute, please bring more packing tape. 30 minutes, an hour, two hours, three – any time you can spare to help us get as many LRT posters up as possible."
Yesterday in the newspaper, there was an opinion piece titled "Light rail is the right vision for an ambitious region". It began "Waterloo Region is a community that is slowly but surely gaining its place on the international map. Our community is being pointed to as the home of world-leading high-tech companies, colleges, universities, research-and-development centres and think tanks. We are envied the world over for having broadened our base beyond traditional manufacturing to emerge as leaders in the new knowledge economy. Determination, co-operation and innovation continue to be key drivers of success — the very qualities on which our community was built. The accomplishments of this region in an ever changing and complex world have been astonishing. So the question is: Just how ambitious and successful do we aspire to be in the future?"
Last week, KWAR (Kitchener Waterloo Association of Realtors) posted on their website a blog post "LOCAL REALTORS SUPPORT LIGHT RAIL" stating that 71% of local realtors support light rail.
In the past few months, we have had rallies, public information sessions and newspaper articles. Organizations, businesses, think tanks, and individuals are all getting organized and getting involved. Flyers, posters, infographics are being distributed.
Although I am not fanatical about light rail, I do support it. I think it is an important step in Waterloo Regions continuing and future development. As a real estate agent, I won't be able to take advantage of light rail in my daily commute. But I'm willing to have my taxes go up (which seems to be the main argument against light rail).
A little more than a decade ago, I choose to move my family here. It was the right decision to make at the time. Just like light rail is the right decision for the people of Waterloo Region to make at this time.
My pal Brenden's company did this wonderful infographic:

Snapsort's LRT for Dummies Infographic