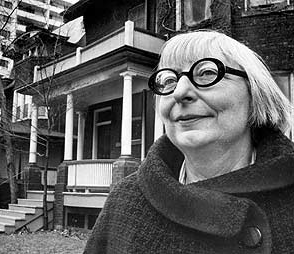 2011 is the 50th anniversary of "The Death and Life of Great American Cities", the book that introduced Jane Jacobs' groundbreaking ideas about how cities function, evolve and fail. It is also the fifth anniversary of the first Jane's Walk.
"Cities have the capability of providing something for everybody, only because, and only when, they are created by everybody." — Jane Jacobs, 'The Death and Life of Great American Cities'
Jane's Walk Vision is for walkable neighborhoods, urban literacy, cities planned for and by people.
By getting people out exploring their neighborhoods and meeting their neighbors, Jane's Walk celebrates the ideas and legacy of Jane Jacobs. Free walking tours held on the first weekend of May each year are led by locals who want to create a space for residents to talk about what matters to them in the places they live and work. Since its inception in Toronto five years ago, Jane's Walk has expanded rapidly. In May of 2010, 424 walks were held in 68 cities in nine countries including:
 Brazil,
China,
England, Germany,
Israel, Mexico, The Netherlands, The Philippines, Slovenia, and Spain.
And to think it all started in Toronto and only five years ago!
The main Jane's Walk event takes place annually on the first weekend of May, to coincide with Jane Jacobs' birthday.
I spoke with a couple who went on the Victoria Park/Tannery walk last year. They had just moved into the neighborhood and they said it was a wonderful way learn about the history of the neighborhood and meet others who live downtown or were interested in local history.
There are four walks scheduled for Kitchener this year and three for Waterloo.