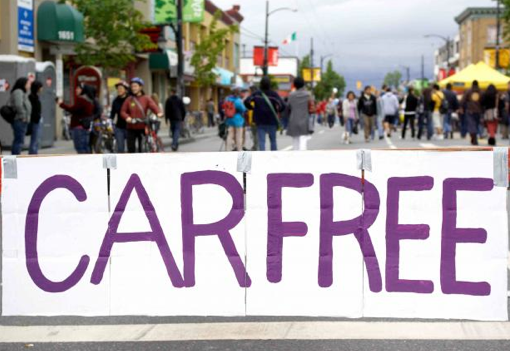 The city councils of both Waterloo and Kitchener have endorsed an idea that other cities around Ontario like London, Toronto and Ottawa, not to mention 800 other cities around the world have already successfully put into place – car-free Sundays. The idea it to block off the almost three kilometer stretch between the two city centers to allow pedestrians, cyclists, joggers… to get out and about, enjoying our cities.
For four Sundays in the summer months, car-free Sundays on King Street, will provide a car-free corridor between the Waterloo Public Square and Kitchener's City Hall. We're calling it Square to Square. The proposed days are June 19, July 17, August 14 and September 18.
It's a wonderful idea, an opportunity for local shops and restaurants to attract new patrons. It's a chance for residents of Waterloo and Kitchener to come into the city core and enjoy the museums, parks, galleries, and businesses in downtown and uptown, or maybe just to enjoy a quiet and temporarily car-free public space.