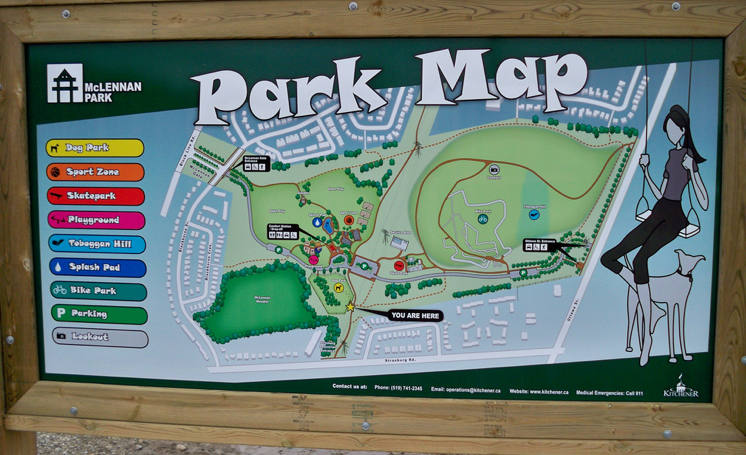 When we first moved to Kitchener more than a decade ago, our townhouse condo overlooked a naturalized area commonly referred to as Mount Trashmore. In those days, there was nothing there except a giant hill and a muddy track. It was a barren wasteland. Today, construction is well underway of phase two – including a splash pad, a playground and a skate park.
McLennan Park is an almost 40-acre parcel of land on the south side of Ottawa Street South (between Strasburg and Westmount). The site is a former landfill (Mount Trashmore) under Region of Waterloo ownership that began operations in the 1950's. It was closed in 1976. A Master Plan for McLennan Park was approved by Kitchener City Council in June 2003 and a lease agreement with the Region of Waterloo was executed in November 2006.
There are several positive environmental impacts of redeveloping a former landfill site and creating a new life for it. Park space and the environment are important to Kitchener residents. The city of Kitchener is developing additional park space for residents to enjoy.
By improving pedestrian trails, lighting and sporting and recreation opportunities, the park's functionality and usage will be increased.
McLennan Park currently offers a number of amenities, including:
Toboggan hill
Pedestrian trails
Park amenities, including a lookout
Work is now underway on phase 2 of the park development, which will include:
Skatepark
Accessible play-structure
Splash pad
Washroom building
Beach volleyball and basketball courts
Picnic shelter
Larger lawn area
The park has come a long way in a short time. I hope the splash pad is ready in time for summer!