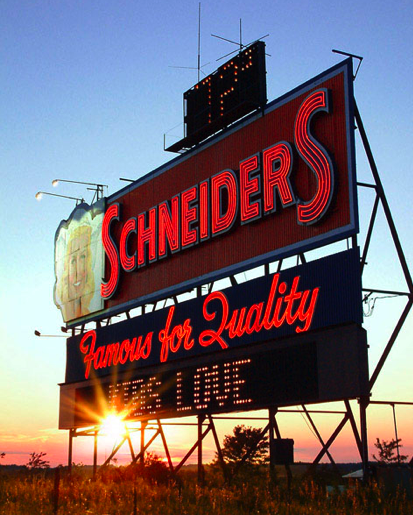 Twelve miles from Kitchener, a landmark that is part of Waterloo Region's history is celebrating an anniversary. The Schneider's sign is fifty.
Think back. Fifty years ago today, beside the then only just opened 401, on the right hand side (heading west from Toronto) a symbol of Kitchener's industrial power and a statement of our reputation for good quality, the "wiener beacon" was newly erected.
Although Schneider Foods was gobbled up in 2003 by Maple Leaf Foods, the Kitchener plant continues to operate, producing a wide range of products, "everything from premium meats, slow roasted the old fashioned way, to ultra-convenient lunch kits…". I sometimes, on summer days go out of my way just to pass the "wiener factory", so I can enjoy that great wiener smell.