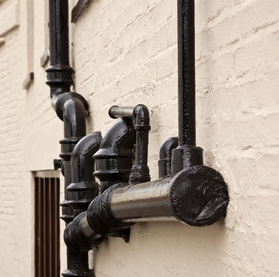 Building codes change. They change all the time. They always get more stringent and I guess we can assume it is not a conspiracy, but that the rules change for good reason.  Recently the rules around the piping used in furnace venting changed. The black plastic pipes venting your natural gas furnace will have to be replaced next time your furnace (or water heater) is replaced, or perhaps sooner.
Because the black plastic pipes can overheat, then crack and allow carbon monoxide to be released into your home, a few years ago, the technical Standards and Safety Association adopted the National Natural Gas and Propane Installation Code.
Homeowners are not required to do anything until they change their water heaters or furnaces.
I was talking with a home inspector yesterday and he told me that some furnace companies are telling homeowners that they must get their pipes replaced now, scaring them into expensive repairs they do not necessarily need.
My advice? Go have a look at your venting pipes. If they are cracked, you might want to call your furnace company. If you rent your furnace or water heater from Kitchener Utilities, they'll cover the replacement costs.
Also, your home should have a carbon monoxide detector. Especially new homes that can be so airtight, you should have one, regardless of cracks in your furnace vent pipes or not.
Keith Marshall is a real estate agent with Prudential Grand Valley Realty, serving Kitchener, Waterloo and Cambridge. If you're thinking of buying or selling your home, please give me a call. I aim to take the stress and mystery out of the home buying and selling process.
If you have real estate questions, you can chat with me live on my homepage or contact me by phone or email. Sign up for my newsletter.