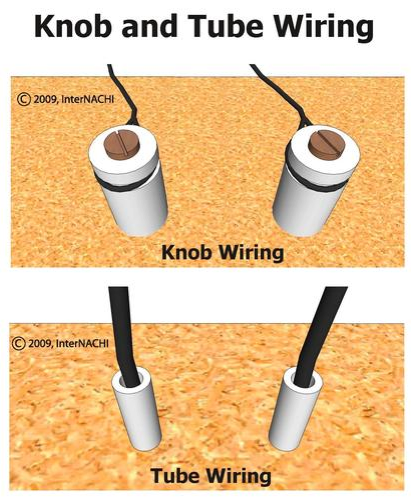 Knob-and-tube wiring was used in residential structure and during the early part of the last century (pre-1950). The wiring set derives its name from the ceramic knobs by which the wire is secured and the ceramic tubes used where it passes through wood framing members such as joists. Insulation breakdown is the most frequent reason for replacement.
There are recent concerns regarding knob-and-tube electrical systems. In particular, insurance companies are increasingly cautious about 60 amp services and older buildings with knob-and-tube wiring. While some insurers will renew existing policies on such properties, a change of ownership and/or selection of a new insurer can lead to refusal. Older systems may not be inherently dangerous but problems can arise with overloading due to new appliances and other modernization within the home
A fire inspection is recommended for older properties. Buyers and sellers should be aware that a fire inspection may result in expenditures on the electrical system. For example, knob-and-tube in the basement area (next to the heat ducts and copper plumbing pipes), will probably have to be replaced.
Past vocabulary words:
Keith Marshall is a real estate agent with Prudential Grand Valley Realty, serving Kitchener, Waterloo and Cambridge. If you're thinking of buying or selling your home, please give me a call. I aim to take the stress and mystery out of the home buying and selling process.
Chat with me live on my homepage or contact me by phone or email.