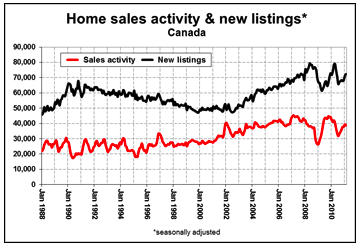 At open houses and other times when real estate is a topic of conversation, people always ask me, "how's the market?"

There's so much going on. "It's complicated," I say.

Unfortunately, most people are unsatisfied with an answer so vague. They want to hear:

It's great.

It's a good time to sell.

It's a good time to buy.

…And those answers are almost always true, statistically. Real estate is a great investment, you have to live somewhere and it almost always goes up in value.

As a real estate agent, I watch the market statistics, read the real estate news and do my best to figure out where we are headed. The past is a good indication of the future.

[slideshow id=5]

The Canadian Real Estate Association has a wealth of information, if you like statistics.