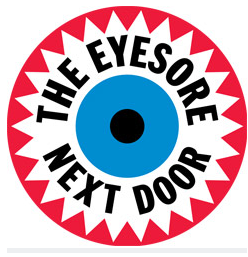 We all know that first impressions are very important. In real estate this translates into your home's curb appeal. I've given tips on curb appeal here before.
But what about your neighbor's house? What is the condition of their front yard? What if your neighbor's front porch is cluttered with flyers and junk? What if your neighbor's driveway has an old car sitting in it, rusting away? What can you do?
First of all, you must be approach the issue very carefully, diplomatically and delicately. Your neighbor may not realize that their home is affecting your property value. We all think that everyone thinks just like us, but they don't.
Tread carefully. Look for solutions. Avoid conflict. Its important you get this right. A lot of money is at stake.
In the US, the National Association of Realtors estimates that an "eyesore house" in a neighborhood shaves about 10% off the value of a nearby listing.
The most common complaints involve fences, trees, tall weeds and grass, kids, pets, toys, old cars, piles of junk and garbage.
So, what should you do?
The first step should be a civil conversation about your concerns. In many cases you'll find that your neighbor is very accommodating. If you're uncomfortable doing this, your real estate agent can help.
Another option is to help your neighbor with the issue. If their yard and front porch is full of junk, offer to help take it to the dump. Better yet, rent a bin and get all the neighbors involved in a "neighborhood improvement project". With an overgrown yard, offer to mow it and get it in shape. Hire a landscaping company to do your yard and the houses on both sides. If that sounds like a lot of money, just think what 10% of your selling price translates into.
If those approaches fail, your last option (and not the best one) is to research the city bylaws and ask to have them enforced.