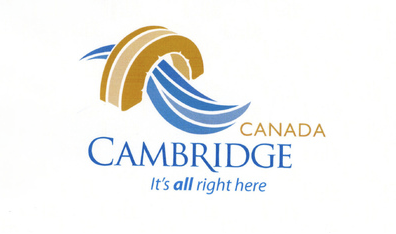 Earlier this week, Cambridge unveiled its new logo with the tag line "It's all right here". Looks nice.
Galt residents will be pleased as it depicts their bridge in their downtown. Galt always wins, always has.
In1973 the City of Galt amalgamated with the towns of Preston and Hespeler, (and Blair too) to become Cambridge.
There was always a rivalry between the three communities, with each unique centre having its own history and there was considerable resistance among the local population to getting together. Even now, almost forty years later, residents still often identify themselves to each other as citizens of Galt or Preston or Hespeler. In fact, this story in the newspaper was about whether or not to have the three cities on the logo.
Perhaps the tag line should read "Its all water under the bridge". Time to move on Cambridge, I think.