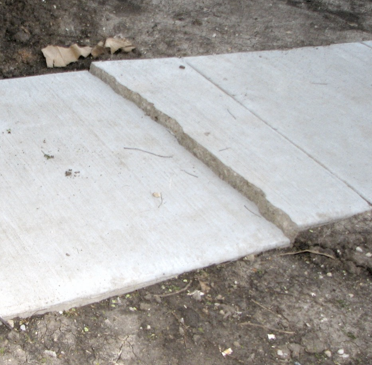 There are almost 2200 km of sidewalk in Kitchener Waterloo Cambridge altogether and now the cost of repairing the sidewalks will be increasing due to some new provincial legislation.
The provincial regulations, which were handed down about a year ago, intended to make it easier for wheelchairs and strollers to roll over sidewalks have led the City of Kitchener to inspect annually and repair within fourteen days, sidewalks where a trip hazards of two centimeters exists.
The sidewalks with "trip-lips" will be smoothed out with grinders, or asphalt ramps will be constructed. In more severe cases, shifted sidewalk panels will be raised through a process of mud jacking – pumping a cement mix under slab.
Every year, the cities of Kitchener Waterloo and Cambridge pay out thousands of dollars in compensation for broken bones, torn clothing and smashed glasses to people who have tripped on the region's sidewalks
From 2001 two 2010 there were more than 300 lawsuits involving trip and fall claims on our region's sidewalks. The total payout was close to $3 million.
The old gag, "Have a nice trip? See you next fall", will soon be a thing of the past.