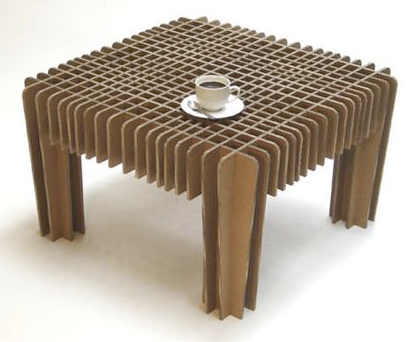 Anyone who's shopped in a large furniture store has seen cardboard TVs and computers. The faux items help buyers see how the shelving unit or work station will look when they get it home.
Now, home shoppers are finding cardboard living room sets and bedroom furniture appearing in vacant homes for sale.
There have been numerous reports showing that vacant houses take longer to sell and sell for less than lived-in homes.
Furthermore, a recent study on home staging recently found that while the average home was on the market for nearly 31 days, the typical staged home sold in just less than 14 days. And while the average home sold for a mere 1.6% over the seller's asking price, the staged homes went for a hefty 6.3% more.
There are several companies making specialized furniture that can be folded flat and tucked under a person's arm and carried into a home, set up in minutes. A small house full of furniture can fit in the back a minivan.
Furniture made of reinforced cardboard that can hold up to 1,000 pounds of weight. The furniture is quickly assembled on location; fashionable slipcovers are put over the loveseats and sofas so nobody can tell what the product is made of. It helps prospective homebuyers imagine what it would be like if they lived in the home.
Pretty slick!
Sell your home with Keith Marshall of Prudential Grand Valley Realty and I'll send in my home staging team. Staging will help us sell your home faster and for more money. (Sorry, they don't have cardboard furniture.)