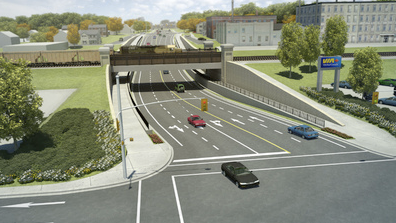 Between College and Guelph Streets in Kitchener, Waterloo Region plans to widen Weber Street to four lanes. The plan also calls for taking out the S-curve, which has proven to be surprisingly slippery and sudden on snowing mornings when I'm not paying attention. An underpass will be built under the railway tracks near the site of the proposed transportation hub.
The extra lanes are needed to eliminate the logjam where Weber Street is pinched into two lanes. This should smooth out rush-hour congestion, reduce accidents at Weber and Victoria streets, and handle traffic displaced from King Street when our proposed LRT takes up two lanes there.
It is an ambitions plan and certainly needed and overdue. The price tag is now $52million.