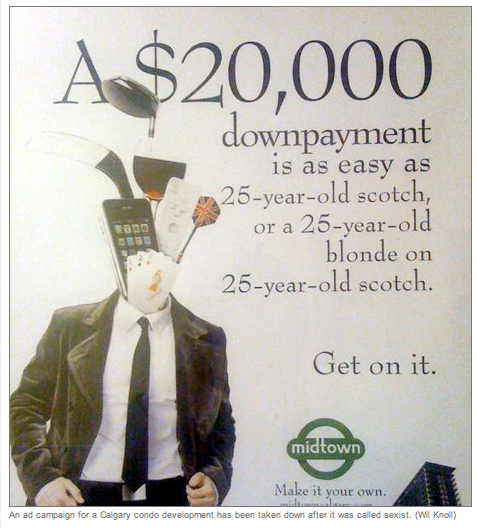 Selling condos is all about selling lifestyle. Whether it be, "Uptown Living", "Downtown Living", "Conveniently Located and Maintenance-free Living", you get the idea…the advertising makes living in a little concrete box on the fifth floor of a nine floor building somehow seem sexy.
In Toronto, the full-page newspaper advertisements show elegance and fashion, tall glass buildings and appealing skylines, young urban types laughing as they exit the lobby. Just imagine living here, you'll be so hip, so young, so carefree.
I love advertisements. The subtle manipulations are not wasted on me.
It seems that one Calgary Developer recently left out the delicate and muted subtleties of a good condo ad campaign, and was punished for it. Their campaign for downtown Calgary condos was withdrawn after the online uproar ensued. The ads were denounced as sexist and tasteless.
The posters for its Midtown tower featured the slogan: "A $20,000 down payment is as easy as a 25-year-old scotch, or a 25-year-old blonde on a 25-year-old scotch. Get on it."
Another read: "A $20,000 down payment is easier than scoring on a four-minute 5 on 3. And way, way easier than scoring with your waitress."
Hmmm. Certainly not subtle, like the campaigns we have in Kitchener Waterloo.