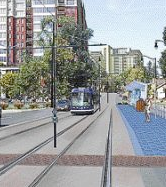 A candidate for Waterloo city council came to my door a week ago Saturday afternoon. I asked him about light rail and he told me he didn't support it. I liked his honesty. He told me for all candidates, it would be political suicide to support it as 80% (unofficial pole) of the voters were against light rail. The candidate lost anyway.
However, he did give me hope. He said, "Waterloo Regional Council is going to do whatever it wants". And although this may not be representing the wishes of the general public it shows true leadership and that is what leaders are elected to do – lead.
Interestingly, this candidate also mentioned to me how unpopular the Conestoga Parkway was when it was being proposed so many years ago. But it was done anyway. Can you imagine the roads in Kitchener Waterloo with out the expressway?
There hasn't been any real debate about light rail. As I see it, all issues are surface ones. In an article in the Record newspaper last weekend, myths and rhetoric around light rail was discussed.
Many people say that light rail will lead to increased property taxes. It will. But so will future road widening, expanded utilities and infrastructure to the outskirts, buying buses, increasing wear and tear on our roads…
Now that the job of getting elected is over, perhaps our leaders will seriously look at the issue and start to lead.