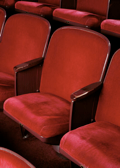 The proposed 600-seat Drayton Theater came under attack in Cambridge this week when mayoral candidate Linda Whetham who has long opposed the plan repeatedly brought up the $6 million that Cambridge taxpayers will have to kick in. She supports Drayton but feels that it is too costly for the local taxpayers.
Incumbent, Doug Craig stood his ground, reminding us that this project will have a significant economic and cultural impact on Cambridge and the surrounding region, as well as pointing out other public amenities, like pools, arenas and parks where tax money is spent without debate. Craig said that Drayton will bring jobs and businesses to Cambridge, as it attracts 70,000 customers annually.
The governments of Canada and Ontario are investing $6 million each in the project. The City of Cambridge is investing $6 million, for a total investment of $18 million for this project.
I currently have listed for sale in Cambridge is this stone farmhouse built in 1862. It's walking distance to the new Drayton Theatre.