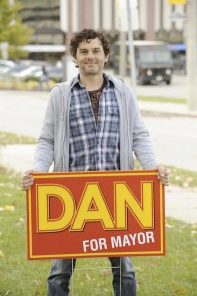 Corner gas guy, Hank Yarbo, Brent's perpetually unemployed best friend and village idiot of Dog River and current perpetual slacker – Dan for Mayor – Fred Ewanuick will be our 2010 Kitchener Waterloo Oktoberfest Parade Marshal. Good choice.
The nearly 32,000 facebook friends of the Ellen Degeneres for Parade Marshall page should be happy with where their efforts quickly led. Although the long shot failed to bring the Ellen Degeneres to Kitchener Waterloo (this year), it got Oktoberfest off to an early start, breathed new life into a stale party and resulted, so far, in discussions of corporate sponsorship and a fun and frivolous parade marshal being found.
Good job. I just hope Fred knows how to chicken dance.