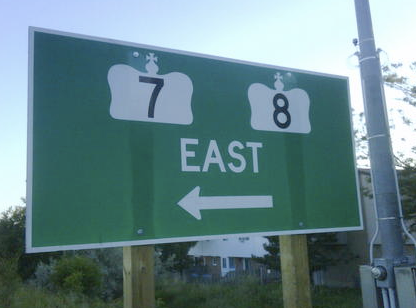 As a realtor, I spend a lot of time in my car, traveling between houses and offices in Kitchener, Cambridge and Waterloo and I think that's part of the reason I take such an interest in the traffic issues of Waterloo Region. I'm lucky that I don't have a regular rush hour commute. However for commuters, I think, at least they know where the construction is and can leave early or take an alternate route to avoid it. Me, I always happen upon major road construction by chance and then it's too late.
I'm then late too.
The highway 8 construction slowed me down to a near crawl one morning recently. The traffic was completely backed up in both directions and for no apparent reason. It was at just after 8am.
I found it ironic when I read a line about our local bridge constructor, John Stephenson, responsible for Waterloo Region's two biggest road projects: a $41-million Fairway Road bridge over the Grand River and a $20-million Hespeler Road bridge over Canadian Pacific Railway tracks at Cambridge's Delta intersection. He lives in Cambridge and goes the back way (through Blair) to his Kitchener office. I can learn from this guy, we all can. The quickest route between two points often involves avoiding major roads, highways, intersections and bridges.
I keep blogging that it will all be better after the Highway 8 access to the 401 from KW is widened and when the new Fariway Road Bridge over the Grand River is completed, both in 2012, but I have this sinking feeling that it's not enough. We all know the back roads around Waterloo Region. We all have our secret shortcuts. Why are we avoiding the main arteries? Because they're clogged?
It's not that we don't have enough roads, bridges and intersections, it's that we have too many cars. We need to get cars off the road. To do this, we need fast and efficient train service to Toronto (gotrain) and light rail through Kitchener Waterloo and someday Cambridge too. My opinion.