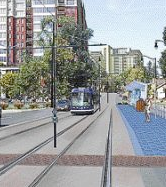 Prime Minister Stephen Harper was in Kitchener Waterloo yesterday and gave the residents of Waterloo Region $265 million for our light rail project. That's a great deal of money. Thank you federal government for supporting the future plans of Kitchener, Waterloo and Cambridge.
Unfortunately, it also means we are $235 million short of funds to complete the plan the way we envisioned.
As our local politicians are trying to decide if they should take the easy way out and accept rapid buses instead of a rail line, we are losing sight of another option – revisiting the project and seeing if there are ways to cut costs within the plan.
At $235 million short of funds, taxing Waterloo Region residents would be unpopular. We can't cut back on material costs for the tracks, trains, and buses, but how about the stops and stations and administrative, advertising, promotional budgets. They can be trimmed, can't they?
We don't need a monument to ourselves. We need a system that tri-city residents will be eager to use. As rail advocate Tim Mollison said, "We don't have room for another Conestoga Parkway down the centre of our city". We want something sleek and modern.