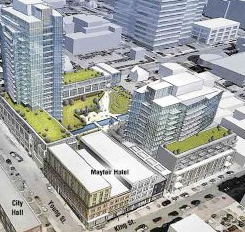 I was in downtown Kitchener yesterday, meeting a friend for coffee (at Maestro Café) and happened by the ground breaking of Kitchener's next Condo project. Developer Andrin Homes will soon begin the promoting plans to build 397 residential units in two towers, an estimated $105 million project. Phase one is slated to start opening in 2013.
The project location is the well-known city-owned centre block, the site of two failed redevelopment projects. Andrin Homes is the firm responsible for the Kaufman Lofts at the corner of King and Victoria Streets.
The sales centre will be open in January 2011. Prices start at $180,000.
We are going to have a lot of condos in Kitchener. Another downtown Kitchener condo project – the old Arrow Shirt factory will add another 136 units to the downtown core. Construction is underway now and should start occupying in the spring of 2011.