The annual Home Listing Report (HLR) is out. It's a benchmark snapshot of four bedrooms, two bathrooms homes listed for sale across the country.
Vancouver is the most expensive place to buy a home in Canada, at $1,324,000. The cheapest place to buy a home is Windsor – $158,242. You could buy eight homes in Windsor for one in Vancouver!
Back out west, on the left coast, Burnaby $705,746 and Kelowna $916,697 are extortionately high and boomtown Fort McMurray costs $593,390. That's more than Calgary $551,920 and Edmonton $452,628.
Here in Ontario, our city's home prices more reasonable. Kitchener Waterloo ranks 11th most expensive city (out of 17) to buy a four bedroom, two bathroom home. (The definition of home for this report includes condos.)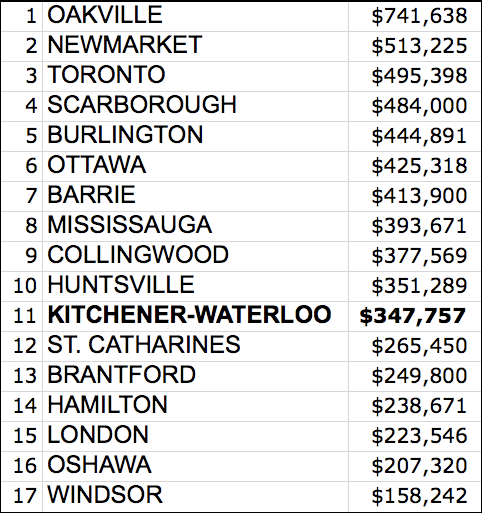 In an unrelated study about the affordability of Canadian Homes, Kitchener Waterloo ranked 20th most affordable city in Canada.