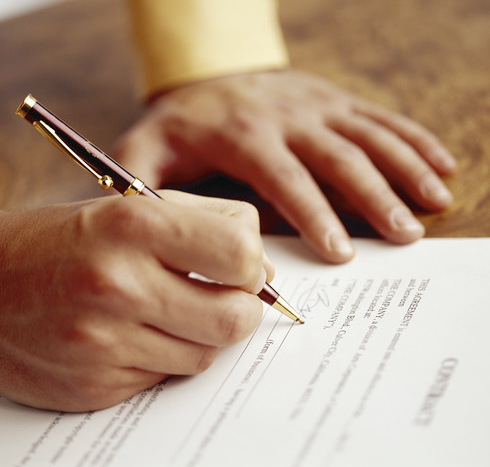 Last Saturday morning at about 11am, I was in the office printing out some feature sheets for an open house that I was hosting later in the day. My brokerage is Royal LePage Grand Valley Realty, located in a busy plaza on Highland Road in Kitchener.
A couple came in and asked if I could give them "some forms". After a little bit of discussion, we determined that their story was that they had driven here from London intent upon buying a home in Waterloo but had forgotten the contract at home or in their other car (or somewhere) and if I could just give them the forms they would be very happy.
I brought them upstairs and showed them some of our pre-printed forms. We have listing forms, waivers, all kinds of forms but sadly no "agreement to purchase property" form. Truth is, when working with buyers, making offers, we build these ourselves with help of software, filling in the many details, dates and most importantly, contract conditions.
The conditions are key. They are what protect you (the buyer)
1) from getting yourself in financial trouble (like maybe owning two houses at the same time) or
2) by getting yourself out of a bad deal (like if the inspection reveals serious problems with the electrical system).
Even though a small minority of houses change ownership privately, the large majority of those are aided by documents prepared by lawyers and realtors. Most people realize the complexity of a property purchase and will get a professional involved in the contract phase of a home purchase. That said, it is still important to educate yourself about the key elements of a real estate purchase agreement.
Some of them that come to mind are:
Finance terms: you'll likely have to get a mortgage and it will be set at a certain interest rate. The bank or mortgage broker will determine what monthly payments you are able to pay. Your contract will have a clause about your ability to obtain a favorable mortgage
Inspection clause: as noted above, a home inspection will find any defects with the property and give you the right to back out of the deal (or renegotiate) if the problem is major.
Fixtures and appliances: what's in what's out? Get it in writing.
Closing date: when will the seller give you the keys? How much time does the seller need to make his move. The closing date can be really short (three weeks) but is usually 60 or 90 days, and often longer.
Sale of existing home: this clause will protect you (the buyer) from paying two mortgages at the same time.
I wasn't able to help the couple who had forgotten their "house buying forms" in London. And as they seemed very ill-prepared to put in an offer on a home, I gently tried to coax the facts out of the story but in the end they took some listing forms and were gone. In the confusion, I forgot to tell them that using a realtor as a buyer's agent doesn't cost anything, will likely save them money, put them in a better negotiating position and certainly protect their rights.