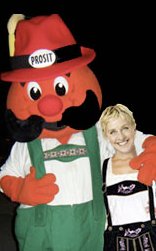 Just like a trip to Canada's Wonderland, or Shanghai, the day is done, the holiday is over, it was a fun ride but it's time to pack up and move on. With only 19 days till Oktoberfest, it would seem pretty certain that Ellen Degeneres won't be parade marshalling this year.
There is still hope among the biggest fans and most hopeful believers. Ellen mentioned chicken dancing on her show last week and "she's just crazy enough to show up", so they say, and it's true. But chances are that she won't and what I'm wondering now is who is going to be Kitchener Waterloo Oktoberfest's parade marshal? And can she or he dance?
In my very first posting on the subject, way back when the facebook fan page had 14,000 fans, I tried to connect the dots from a phallic photo of the back of a lion to her actually becoming K-W Oktoberfest's parade marshal. At that time, I didn't know the Betty White on SNL back story. At that time, I didn't know that the "Ellen Degeneres for Parade Marshall of 2010 K-W Oktoberfest Parade" facebook fan page would more than double again to reach nearly 32,000 fans. That was before the big chicken dance party in front of Kitchener City Hall that was a spectacle of nylon body-suited performance artists, fat Elvis, a six-foot chicken, and two mayors, one in lederhosen. I was awestruck by the power of the people and the extravaganza created. It was like finding myself on a two-week gay carnival cruise through the Caribbean.
How did this happen?
What am I doing here?
But that was the peak. I'm assuming it's over.
The good news is, I suspect this year's Oktoberfest will be big. It won't seem so tired and "been there, done that" this year. The idea of corporate sponsorship has been floated (no pun intended) and who knows, we started something this year with Ellen Degeneres, maybe next year she can put Kitchener Waterloo into her schedule. And if not Ellen, maybe William (the Shat) Shatner, Erin Brockovich, or the Old Spice Guy would like to be parade marshal.
OK.
Until next year, that is all from me on this subject (unless she actually comes).