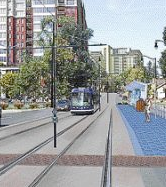 When I was in Beijing six years ago and the taxi driver lamented about how bad the traffic was. I remember I told him, "You ain't seen nothing yet".
I was right.
I like being right. Having lived through the boom years of Taiwan (1988-2000), I saw for myself how a road system supply could fall behind the pavement demand. Gridlock ensues. The north-south highway during Chinese New Year in 1994 could be considered to be the longest parking lot in the world.
I was speaking with a colleague of mine yesterday about Waterloo Region's light rail plans.
She said, "I remember when we had streetcars in Kitchener. I used to ride them with my mother and young brother when we went to the movies when I was five. But then, the city took them all out because car is king in the Region of Waterloo."
It's true. Car is king. But that's because we don't have a good alternative. I think its wrong to say, "We used to have public transit but no one used it". That was more than fifty years ago.
Lets not look back. Lets look forward. What's our city going to look like fifty years in the future?