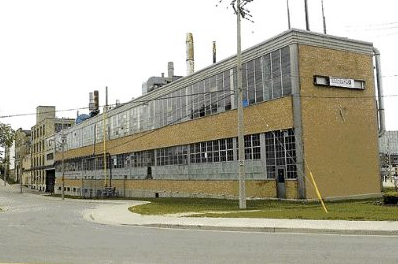 In a generation, I predict, instead of having the two cities of Kitchener and Waterloo separated by a kilometer and a half up King Street with a low-density urban sprawl of medical buildings, hair salons and nondescript low rise office towers, the cities will be amalgamated if not by government but by real estate. We are growing together. The line on the map is fading. The retro looking sign on King Street, hidden behind an electricity pole announcing "Waterloo", will be dwarfed by our shared, gleaming and modern urban landscape.
Another old one-time boot factory is being converted into office space. This time it's north of Victoria Street (between the Beer Store and McDonalds), the former Collins and Aikman plant at Breithaupt and King. It's being called "the evolution of the workplace" and the "Breithaupt Block" and when completed will provide a creative work environment for young technology companies.
This project is another positive step in revitalizing and re-urbanizing our city core. Zoning has been changed and plans are in place to continue north, up the strip.
https://www.570news.com/radio/570news/article/82532–new-life-for-old-factory