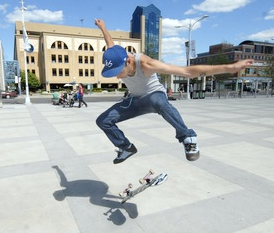 I love facebook. It gives us the chance to say "yeah right" to a story in the newspaper we don't agree with. I'm talking about the "four season heart of Waterloo" and some comments on the Record's Facebook fan page (link below).
I'm talking about Waterloo public square. It was named by a panel of architects and designers as Canada's best civic design. That's hard to believe, considering that its been called a "concrete desert" and worse.
It's been a year and the uproar has died down, about the rusty bell and the empty square.
It seems now that if they claim it to be a great civic gathering place and give it awards, the general public will be fooled into thinking we were wrong and silly idiots for thinking it should have trees and maybe even grass. Meanwhile, the politicians tell us we are warming up to the square.
We are?
For me, I think the only people who love the square are architects and skateboarders (who were quickly banned). I think it is better than the parking lot it replaced, but not much.