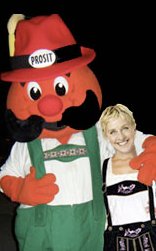 June 8th.
October 8th is the tapping of the keg, the official start to Oktoberfest.
That's only 122 days away. With over 25,000 fans signed up to the Ellen Degenerers' facebook fan page and with recent coverage on TV stations, on facebook, twitter and in the blogosphere, we are creating a lot of noise, a lot of interest, and some national attention to the cause.
But what about Ellen? Have her people talked to our people yet? Are they waiting for us to create some sort of spectacle newsworthy enough to trump a photo of a phallic float? I think so. I think we are on the radar. I think the movement to bring Ellen Degenerers to Kitchener-Waterloo as Parade Marshal for the Oktoberfest Parade is good for Ellen and great for Oktoberfest, and I'm starting to think it just might happen.