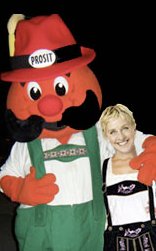 When Elvis shows up, you know you're going to like it.
And, like it? I loved it!
What a crowd. The mayor of Kitchener, the mayor of Waterloo, three radio stations, the Waterloo Region Record, Elvis, musicians, singers, dancers, the man who brought the chicken dance to Waterloo way back when, two guys in nylon body suits, a six-foot chicken, an inflatable beaver and of course a big, blow up, phallic lion, the same one that started it all. There was a crowd of more than a thousand, by my rough estimate. It was a spectacle, a pageant about a parade marshal.
This story has legs. I'm frankly surprised and amazed how it continues, groundswells because of Ellen Degenerers' media distinction. How does a little facebook fan page lead to a blocked off main street, in front of city hall and this kind of attention?
It's Oktoberfest. It's Ellen. As one attendee told me, "She'll come now. She's that kind of lady." I'm not sure what that means, but I like it, no I love it, because Ellen Degenerers as our parade marshal will be good for Oktoberfest and great for Kitchener-Waterloo.