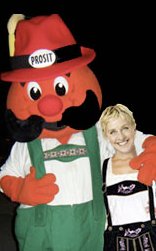 It's been a wild ride. I saw Elvis.
As a "notable KW blogger" (I love that) and as a Realtor (I love that too), I'm often involved in the workings and doings of our society, living and working here, I know a lot of people, they do a lot of good, I try to help. Usually I ply my trade as a trusted advisor and a knowledge knower, and as an interested observer and sardonic commentator, more on the fringes of power and knowledge than close to the power-brokers.
But society is always evolving, times change, people change and here we are 100 days from the tapping of the keg and Oktoberfest, Kitchener-Waterloo's parade and the festivities that will ensue. New excitement is already in the air. Will she or won't she? Will Ellen Degenerers be our parade marshall?
I think she will. I think Ellen Degenerers will do something pretty wild and come to Kitchener. 28,607 people hope so too.
100 days. She'll be here before you know it.