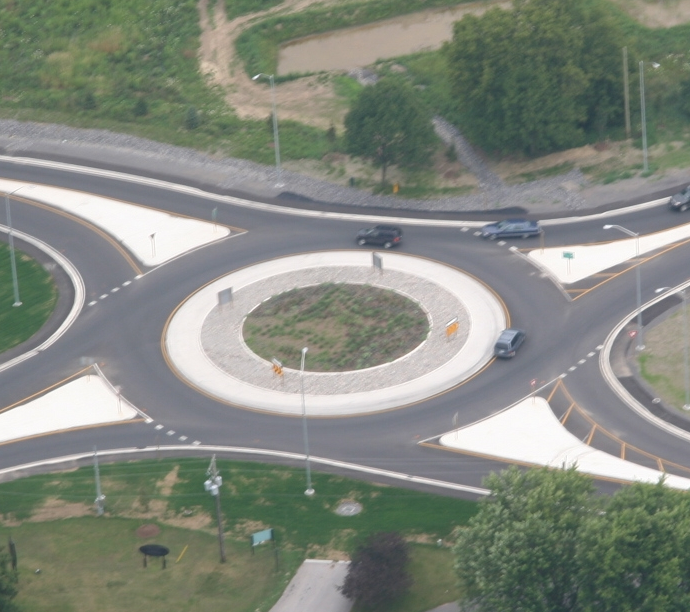 I love roundabouts because I hate sitting at an empty intersection waiting for the light to change from red.
Red. Red. Red. Waiting, waiting waiting. What a waste.
At busy times, I believe that roundabouts keep traffic moving faster than it otherwise would. Sometimes they get a little backed up (Erb and Ira Needles is bad for this and the one on the way to Elmira is too) but often to blame is an overly cautious driver, afraid to merge.
When I was growing up in Kingston Ontario, we had a large traffic circle that had been around since the loyalist days. It was a shame when it was taken out and a large bland intersection was put in its place.
Roundabouts in Waterloo Region are consistent with our innovative, thinking-outside-the-box personality.
But I also think that roundabouts are good for automobile drivers, bad for everyone else. As a cyclist, I fear roundabouts. As a pedestrian I fear them ten times more.
Before buying a house near a roundabout, park your car and walk around it a few times and decide if you will feel ok about you and your kids crossing it.
Here's why. Drivers speed around them, mostly.
I still love the novelty of roundabouts. Unfortunately, it is so rare that pedestrians are crossing them we completely forget to watch. Roundabouts in the region tend to be in areas on the fringes of communities. But pedestrians are rare to see, you have to admit.
If you are considering buying a house near a roundabout, do yourself a favor and have a walkabout that roundabout.
https://waterloowellingtonblogs.org/2010/05/on-waterloos-roundabouts.shtml