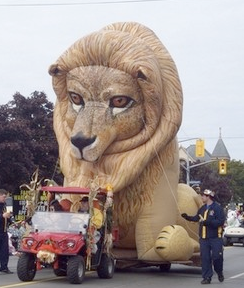 Wouldn't it be funny and ironic if Ellen Degenerers became the Oktoberfest Marshall. I mean really. Someone sends her a phallic float photo and now we have almost 15,000 fans on the Ellen-Degeneres-for-Parade-Marshall-of-2010-K-W-Oktoberfest-Parade facebook fan page.
What's interesting too is the speed of the story. Everyone was talking about it on Thursday.
If she does become this years parade marshall, we'll certainly be getting some international coverage. Though with mainstream media coverage, I hate to imagine the innuendo and the disappointment of over-promising and under-delivering that will certainly ensue.
https://www.facebook.com/pages/Ellen-Degeneres-for-Parade-Marshall-of-2010-K-W-Oktoberfest-Parade/121211941239514?ref=ts