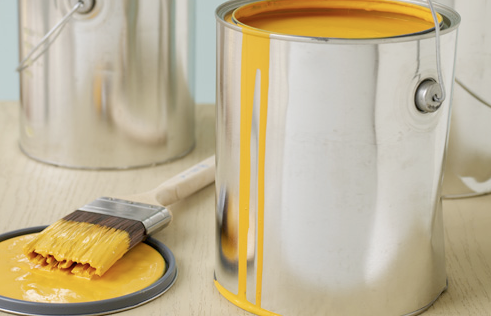 I learned a few things many years ago when I ran a student painting business one summer, and as a homeowner I've done lots of painting since. Well done, a fresh coat of paint will last years and add value to your home. Here's how to do a pro-quality job.
Start with good tools. My buddy at my local painting store (Heer's Decorating on Belmont) complains that people will buy good paint but then scrimp on cheap brushes and rollers. A good brush will hold more paint and not drip it on the floor and baseboards. Get brushes with tapered bristles made from a mix of nylon and polyester.
Test the color. Little thumbnail-sized chips don't really give you much idea how the room will look when the job is done (it'll be darker). It's better to get a sample pot and do a test spot (about 3 foot square). If it's the wrong color, you're going to paint over it anyway.
Buy quality paint. I really like Benjamin Moore's Aura (they didn't pay me to say this) as it goes on so well and I've never had to do more than two coats, even without a primer. Cheaper paints don't cover as evenly or easily.
Clean up. At the end of the painting day, your brush, tray, drop cloths, cans, lids, stir sticks…should be back to as close to their original state as possible. Most people don't enjoy painting and hurry through the clean up only to get chips of dry paint in the tray, hard brushes that hold no paint and streaks of paint on the floor from the rags and drop cloth the next day.
Don't overload your brush. If you do you'll get globs and drips running down the wall. If you don't notice in time, after they dry you'll have to sand them off and redo the area.
Take your time. You can't rush good workmanship. Depending on the size of the room you'll need two days and likely more. Michelangelo didn't paint the Sistine Chapel one night after work.
Use masking tape. Tape the baseboards, around windows…The real pros may not need masking tape, but I do. I find the time spent taping up is well worth the time I save cleaning up slip ups.
And (bonus tip), if you're going to paint your ceiling, paint it a light sky blue. It creates a more spacious feeling. I painted the ceiling in my basement sky blue and it looks great.